Water, the lifeblood of agriculture and the cornerstone of lush landscapes, is a resource that requires efficient management. The key to achieving this management lies in the evolution of solenoid valve technology. Solenoid valves are revolutionizing water delivery systems, not only in agriculture but also in landscaping, ushering in a new era of precision and sustainability.
The Foundation of Solenoid Valve Technology
Solenoid valves are electromechanical devices that control the flow of fluids through a pipe or tubing system. They operate based on the principles of electromagnetism. When an electrical current is applied to the solenoid coil, it generates a magnetic field that lifts a plunger or diaphragm, allowing the flow of water. When the current is cut off, the valve closes, stopping the flow of water.
Agriculture: Precision and Yield Enhancement
In agriculture, solenoid valves have become indispensable for efficient water distribution and management. They are the beating heart of modern irrigation systems, allowing farmers to precisely control the delivery of water to their crops. Here's how they're transforming agriculture:
    Zoning: Different crops often have varying water requirements. Solenoid valves enable the division of fields into zones, each with its own valve. This zoning approach allows for customized irrigation schedules and optimal water distribution for different crops.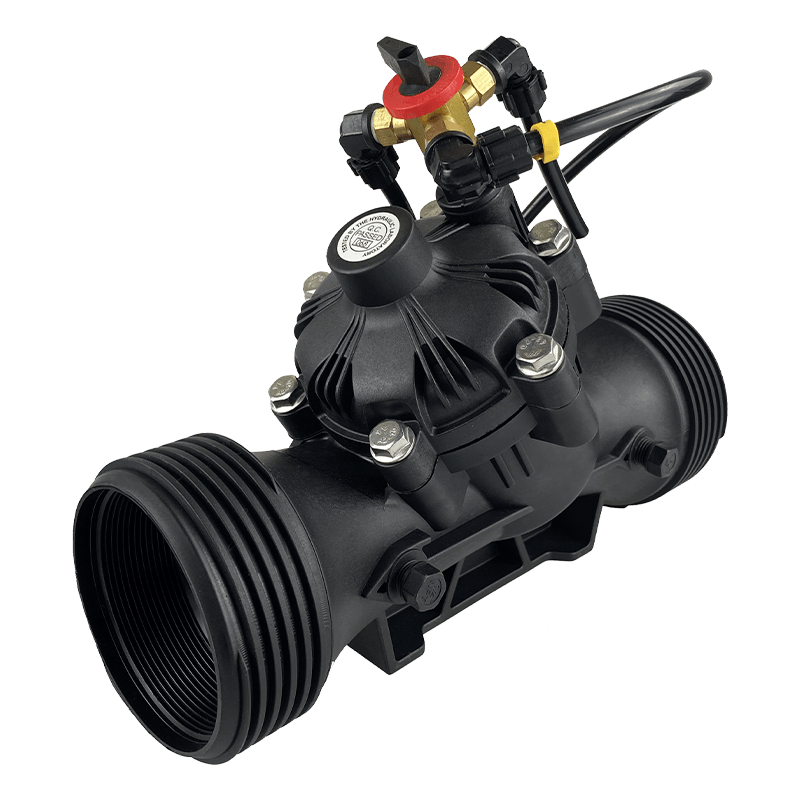 Water Conservation: Water conservation is paramount in agriculture due to the increasing strain on water resources. Solenoid valves provide precise control over water delivery, reducing wastage, and optimizing water usage. This conservation not only benefits the environment but also lowers operational costs for farmers.
    Automation: The integration of solenoid valves with advanced irrigation controllers and sensors means that irrigation systems can operate automatically. They can adjust watering schedules based on real-time weather data and soil moisture levels, ensuring that crops receive the right amount of water at the right time.
    Fertigation: Some solenoid valve systems allow for the precise injection of fertilizers and nutrients into the irrigation water. This process, known as fertigation, enhances crop nutrition and can lead to improved yields and crop health.
    Energy Efficiency: Energy-efficient solenoid valves are now available. These valves reduce power consumption and can operate on low-voltage electrical systems, which is not only cost-effective but also environmentally friendly.
Landscaping: Greening Urban Spaces
Beyond agriculture, solenoid valves are making significant inroads in the world of landscaping. They are essential components of automated sprinkler systems, helping to create and maintain beautiful and sustainable green spaces. Here's how they're transforming urban landscapes:
    Efficient Watering: Solenoid valves are at the heart of automated sprinkler systems, providing precise control over the watering of lawns, gardens, and public spaces. They prevent overwatering and ensure that landscapes receive just the right amount of moisture.
    Water Conservation: As water resources become scarcer in many regions, water conservation is a top priority for landscapers. Solenoid valves minimize water wastage by controlling the flow of water with precision, reducing runoff and overspray.
    Smart Landscapes: Many modern landscapes are now equipped with smart irrigation systems that use solenoid valves. These systems can be controlled remotely via smartphones or connected to weather stations and rain sensors to optimize water usage.
    Enhanced Aesthetics: Solenoid valves are designed to work quietly and efficiently. They are an essential part of the unobtrusive beauty of automated irrigation systems that seamlessly integrate with the landscape.
    Sustainable Landscaping: The use of solenoid valves in landscaping aligns with the principles of sustainable landscaping. It allows for the creation of green spaces that are both visually appealing and environmentally responsible.
In conclusion, solenoid valves have become the linchpin of efficient and sustainable water delivery in both agriculture and landscaping. Their precision, automation, and ability to conserve water resources make them indispensable in a world where water is an increasingly precious commodity. As these valves continue to evolve with advancements in technology and design, they promise to play an even more pivotal role in the responsible management of water resources, from the fields of agriculture to the green spaces of our urban landscapes.