Impact sprinklers
, often referred to as impulse or rotor sprinklers, differ from traditional stationary sprinklers in several key ways:
    Sprinkler Head Design: Impact sprinklers have a distinctive design featuring a rotating head. This head consists of one or more arms or nozzles that emit water in a circular or oscillating pattern as the head rotates. Traditional sprinklers, on the other hand, typically have a fixed head that emits water in a stationary pattern.
    Coverage Area: Impact sprinklers generally cover a larger area than traditional stationary sprinklers. This is because the rotating action of impact sprinklers distributes water over a wider radius, making them suitable for larger lawn or garden areas.
    Uniformity of Water Distribution: Impact sprinklers are known for their even and consistent water distribution. As they rotate, they send out water in a circular or oscillating pattern, ensuring that the entire area within their reach receives an approximately equal amount of water. Traditional stationary sprinklers might have uneven distribution patterns, leading to some areas receiving more water than others.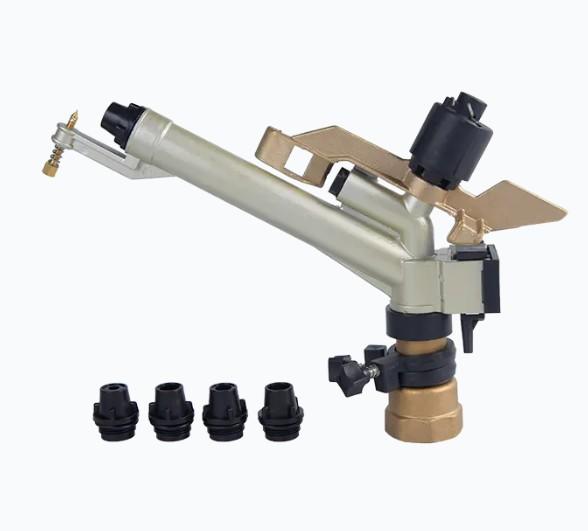 Adjustability: Impact sprinklers are often more adjustable than traditional sprinklers. Users can typically change the rotation speed, arc, and water flow rate of impact sprinklers to customize the watering pattern and adjust for specific needs. This adjustability is valuable for targeting specific areas or avoiding obstacles.
    Water Pressure: Impact sprinklers require higher water pressure to operate effectively. The impact mechanism relies on the force of water to rotate the head, making them suitable for areas with adequate water pressure. Traditional stationary sprinklers can operate at lower water pressures.
    Durability: Impact sprinklers are known for their durability and ability to withstand harsh conditions. Their robust construction allows them to handle various weather conditions and resist clogging from debris. Traditional stationary sprinklers might be more prone to clogging or damage.
    Throw Distance: Impact sprinklers are capable of reaching longer throw distances compared to many traditional stationary sprinklers. This feature is especially beneficial for large lawns or agricultural applications.
    Cost: Impact sprinklers tend to be more expensive than basic stationary sprinklers. However, their superior coverage and adjustability can make them a cost-effective choice for larger areas.
In summary, the main differences between impact sprinklers and traditional stationary sprinklers lie in their design, coverage area, water distribution, adjustability, water pressure requirements, durability, throw distance, and cost. The choice between the two depends on the specific needs of your irrigation or watering system.